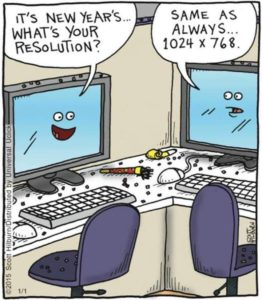 I have told this joke now many times and it really is getting old. This year is different though. This year I have a new resolution. This year I moved to 2560x1440(2K) for my work from home office. This slight change from 1920x1080 may seem like a small step to some but for me it was a game changer.
Beyond the resolution though I also went from 19 to 27-inch size monitors. This is important to note because resolution does not equate usability. Most new 13-inch laptops on the market now offer a 4K screen resolution. 4K Resolution is 3480x2160 and when displayed on a 13 inch monitor it can make everything ridiculously small. 2K resolution on a 27-inch monitor is the best of both worlds because there is plenty of space to work and things are still easy to read.

So new year new resolution. If you are still using 1024x768 it is time for a new resolution.
If your company is looking for IT advice on new computers or IT services, please contact NuWave.
Freebird